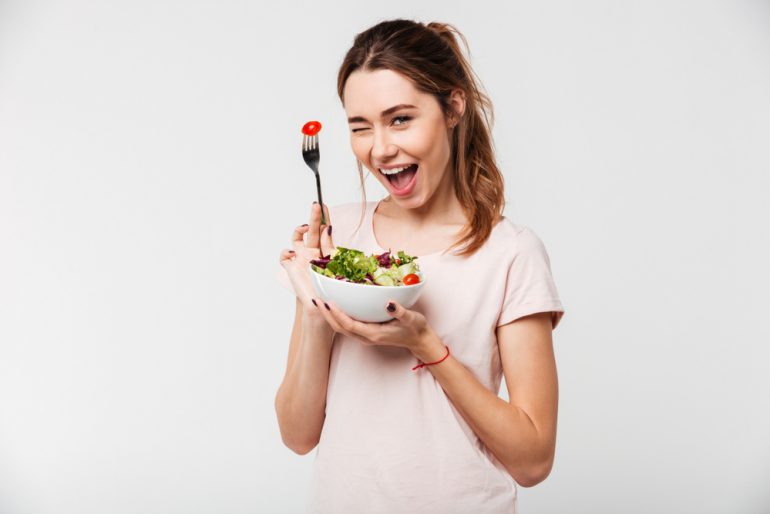 Healthy eating should be something you enjoy, not endure. But too many people think healthy food means plain grilled chicken and steamed broccoli for weeks on end.
Nothing could be further from the truth, says Lexi Linsenman, chef, dietitian and development manager at the Columbia Center for Urban Agriculture. "To live a healthy lifestyle, you need to have fun with your food," she says. "You don't want to fall off the wagon because you're bored eating."
Linsenman recommends thinking of yourself as an artist and your healthy meals as the artwork — with the right tools and techniques, each dish can be interesting, attractive and satisfying.
Take these six steps to bring your healthy eating to a new level:
1. Use locally grown produce
You may think a tomato is a tomato, but Linsenman begs to differ. A tomato shipped thousands of miles and ripened in commercial refrigerators will never taste as good — or provide as many nutrients — as a tomato grown down the street or in your backyard.
"When people grow their food, it's a love language," Linsenman says. "There's a relationship, you can see your hard work, and you're more likely to eat those vegetables."
If you're new to growing vegetables, Linsenman recommends starting small — even growing a few veggies in a bucket. Or consider a community garden if you're looking for more space and like-minded people.
Gardening not your thing? Look for local produce to enhance your meals. Check out weekend farmer's markets or try a produce subscription program, where growers give you a week's worth of in-season produce at a time. There are also produce prescription programs that provide at-risk patients with weekly "doses" of produce — doctor-prescribed vouchers for fresh fruits and veggies redeemable at local farmer's markets and grocers.
2. Make your food attractive
Top chefs are judged on the presentation of their dishes before anyone takes a bite. One of the reasons, says Linsenman, is that we eat with our eyes first.
"If you're just eating different shades of brown, it's not very enticing," Linsenman says. "The more color you can add to your dishes, the more excited you'll be about what you're eating."
Use vegetables and fruit to bring vibrancy to your meals. Sprinkle toppings — such as fresh herbs, diced nuts and lemon or lime zest — to elevate the dish and add a finishing touch.
If you're feeling adventurous, use edible flowers for a pop of unexpected color:
Borage, an easy-to-grow, small blue flower that has a mild cucumber flavor
Dandelion, especially the greens, which taste like arugula
Nasturtium, a bright flower with a strong pepper flavor
Squash blossom, eaten raw, sauteed or stuffed with rice or cheese
Sunflower, which has an eggplant-like texture and can be roasted on the grill
Zinnia, which doesn't offer much flavor but makes a beautiful addition to a plain and simple food — Linsenman suggests adding zinnia flowers to a block of brie cheese drizzled with honey
3. Spice things up
Spices add fragrance, flavor and texture to a dish. But they also keep your palate guessing. Just a pinch can give your meal a completely new taste.
"A sprinkle of spices on top can bring depth and texture to your food," Linsenman says. "They can also balance your dish — add crunch to a smooth dish or sweetness to something savory."
Look for locally grown spices at farmer's markets. Once you know which herbs you prefer, start a windowsill spice garden, so you always have them on hand.
4. Turn up the heat
Having fresh ingredients for healthy eating is only half the battle. If you don't prepare those ingredients in a satisfying way, they'll quickly lose their appeal.
Linsenman is a big fan of cooking over high heat — sauteing, broiling or using a pressure cooker. This method allows you to prepare meals quickly, provides fragrance and gives the food texture.
"Set your heat high and then add your vegetable and protein," Linsenman says. "It will create a nice texture with a crispy edge while caramelizing (deeply browning) the food."
Cooking this way doesn't require anything fancy. Use oils with a high smoke point, such as avocado, canola, sunflower or sesame oil. Then Linsenman suggests using basic ingredients such as garlic, onions, salt, pepper, protein and any other veggies you have on hand.
5. Mix and match your menu
Healthy eating needs to be interesting to keep you coming back for more. But it doesn't require intricate recipes, and you shouldn't need to cut out any primary nutrient sources.
"Diversity in what you eat is the long game here," Linsenman says. "All food fits. You just need to find ways to incorporate the tasty food you like and vegetables. It doesn't have to be the same thing over and over."
Keep your meals simple but delicious by meal prepping for three days at a time and focusing on the basics. Linsenman prepares a base ingredient (rice or potatoes), one or two proteins (chicken, tofu, shrimp or steak) and vegetables. Then she mixes and matches those ingredients with different sauces to satisfy her tastebuds — shrimp and a sesame ginger sauce one night and chicken with buffalo sauce the next.
6. Seek out support for healthy eating
Healthy eating is a noble endeavor and a smart lifestyle choice. But it's not always easy. Having support in place can help you overcome any challenges you may face.
Linsenman recommends:
Working with a partner: Find a friend, co-worker or family member who also focuses on healthy eating. They'll keep you motivated and make the journey more fun.
Finding a community that supports eating healthy: Look for local resources like the Columbia Center for Urban Agriculture that can provide education, fresh produce and meal ideas.
Getting online: Social media sites such as Pinterest, Facebook and Instagram offer online communities, healthy recipes and advice to inspire you.
"You're not alone when you're creating a healthy journey," Linsenman says. "I think that's important to realize. Just find a source of support."
A Chef Lex Recipe to Get You Started
Simple, Healthy Pad Thai
2 servings
Cook time: 15 minutes
Ingredients
1 cup cooked rice pad Thai noodles
2 cups thinly shredded cabbage
2 cups chopped carrots
3 cloves garlic
1/2 tsp minced ginger
2 tbsp avocado oil
1 cup of cooked chicken/beef/protein (if desired)
2 poached eggs
1/3 cup nuts
1 lime, sliced
2 tbsp soy sauce or liquid aminos
1 tsp fried chilies in oil (optional)
1/4 sliced green onions
1 tbsp peanut butter
1 bunch of nasturtium (optional)
Thai chilies for heat
Directions
In a large skillet heat oil for 1-2 minutes
Add sliced cabbage and carrots
Cook vegetables for 10 minutes, stirring occasionally
Add in garlic, ginger, protein and noodles, reduce the heat to low
In a small bowl, whisk together soy sauce or liquid aminos, peanut butter, chilies in oil, green onions and Thai chilies until smooth
Turn off the heat and pour sauce over the noodles and stir
Add two soft, poached eggs and watch the yolk enhance the sauce even more
Add nasturtium, diced nuts and lime slices for presentation (and more Thai chilies if you're brave)